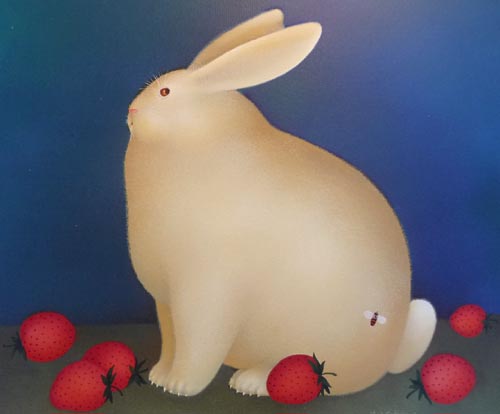 As a successful artist, book illustrator and theatrical designer in the former Soviet Union, Igor Galanin enjoyed professional success and recognition-without freedom of expression. Yet he had an inner mechanism that understood what freedom was all about. Within his personal, painted kingdom, Galanin let freedom ring. If he wanted a chair to rest on water instead of a floor, he put it there. If he thought the fruit in a still life should go floating out of its bowl, away it went. Seeking liberty for himself and his family, Galanin emigrated to the United States in 1972.
On the surface, Galanin's paintings are purely a celebration of the sensual. In this carnival of earthy delights, women with delicate, aristocratic features and round, voluptuous bodies take center stage. Whether they are enjoying a park vista from the comfort of a bench, or flying threw the air on the trapeze, Galanin's big beautiful women remain serenely in control of their surroundings. Expressing a wholly unique artistic, vision these technically masterful painting contain lighthearted nods to mannerism, to Surrealism, and to the dainty theatrical caprices of Jean-Antoine Watteau. Galanin's jewel-box palette and dramatic use of dark backgrounds may bring to mind Russia's decorative black-lacquer art objects, as well as religious icons.
Perhaps because they are the direct descendants of this venerable artistic tradition, Galanin's cast- bronze sculptures possess a timeless simplicity and power. They have the same energy and charm as his paintings, and frequently treat the same subject matter. Each original or limited-edition sculpture is cast in bronze, then colored through the application of acid and heat. When placed outdoors, the sculptures will develop a rich patina.
Galanin's Rooster-a symbol of life's regenerative forces-stand a little more than a foot tall, yet has a striking presence and mastery. It's smooth, hand-burnished contours capture the softness of puffy features, while the rich, varied brows of the patina resemble burl wood. Colored in a silver pewter tones, Galanin's Swan is composed of S-curves that suggest both fluid grace and the element water. With chararistic insight and humor, Galanin has imagined his Hippopotamus as the creature that he would feel most at home:half submerged, and with a bird for a companion.
Galanin's cosmic circus would not be complete without its ringmaster. In his Self Portrait with a Rabbit, the artist appears with his personal guiding spirit and muse-the creature who best personifies playfulness, joy, and eagerness to experience life. Like the rabbit that led Alice down the borrow to Wonderland, Igor Galanin and his muse invite us to journey through layers of poetic meaning into unique, wonderful worlds-no passport required.
[nggallery id=7]