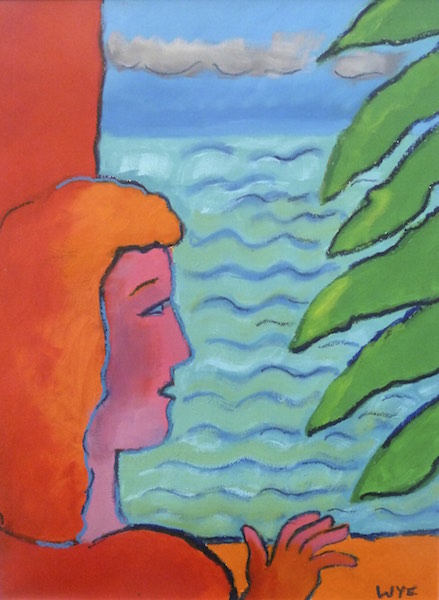 1926-2006
Joan Wye was born in the U.S. but lived in Berlin, Germany for most of her childhood until the age of thirteen. Her mother had sent her to live with Joan's great aunt who ran a boarding house, and Joan's grandfather who was the conductor of a symphony orchestra. In 1939 Joan's mother came to rescue her from the horrors of Nazi Germany and take her back to the U.S. and then Argentina.  
     
After high school in Buenos Aires, Joan left to enroll in the Art Student League of NY where she had her formal training. She married another League student, had a daughter Carol, and the family moved to Provincetown, Massachusetts. Joan had started out a painter but in Provincetown she took up the medium of wood carving and to a lesser degree bronze casting.  
    
 After twenty years in Provincetown, she divorced and moved to Somerville, Massachusetts with the man who would become her second husband, the painter, Jackson Gregory. They both found space in a factory building that was to become a well known artists and artisans studio building: 20 Vernon Street in Somerville. Joan initially created some large papier mache brick sculptures and then invented a tile making process which led to an art tile business called Belfast Bay Tileworks. Her husband Jackson joined her and for the next 18 years Belfast Bay designed, produced and sold their art tiles in the metro Boston area, New York, Cape Cod, Maine and other locations round the country.  In addition to residential installations, she and her husband created public art tile murals for Boston area's Red Line (MBTA), The Children's Hospital, New England Home for Little Wanders, and Roberts School, as well as for the Niagara Transportation Authority in Buffalo, NY.
Wye also started making art works using tile mosaics as a medium. In 1985, Wye and Gregory bought property on Vinahaven Island, Maine and moved there permanently in 1990. They bought a much reduced version of the tile business with them to Vinalhaven which they continued until 2000, when they retired from the tile making to devote full time to their painting. With a spacious studio, Joan finally got back to her first love, painting. She was a prolific artist and made up for lost time by turning out about 300 paintings in the last ten years of her life.
      
Wye is associated with number of galleries in Provincetown, Boston and New York. Her paintings, sculptures, mosaic tile pieces are in collections across the U.S. She died at home on Vinahaven in August of 2006.
[nggallery id=98]